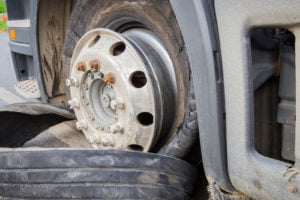 Interstate 75 is one of the most traveled roads in the country, stretching from Florida through Georgia and all the way up through Michigan. It also connects with most of the major East-West Interstates as well. One of the inevitable risks of driving one of these major arteries is sharing the road with semi trucks. These massive vehicles transport nearly everything we consume to our favorite stores, but in addition to their necessity comes some very dangerous interactions through carelessness of drivers and even accidents involving debris.
Authorities in Detroit recently reported that a motorcyclist has sustained serious injuries due to being struck by a tire on westbound I-94 near I-75 in Detroit. According to preliminary information provided by the State Police, either a full-size tire or a piece of retread came off the semi truck and struck the motorcyclist who was traveling along the highway.
The motorcyclist, who was hit in the ankle, sustained a very serious injury. The driver of the semi truck did not stop after the incident, apparently unaware that he had lost a tire.
Finding the truck involved will likely prove difficult, especially if it was a driver with a long-haul route. The driver may not realize that he lost a tire or that there was any damage until he stops to take a break or re-inspects his truck.
Accidents similar to this one happen in Georgia and throughout the country on a routine basis. If you're involved in an accident with an 18 wheeler, what can you do?
Georgia Semi Accident Injuries
If you or a loved one have been injured in a Georgia semi truck accident and the driver can't be identified, you may think you have no recourse. This is not necessarily the case.
Further investigation could reveal witnesses to the accident who may be able to provide the name of the trucking company involved or a license plate. This information can be used to help you make a claim against the company.
If you are unable to locate the driver responsible for the semi accident, you could make a claim for your injuries to your own insurance company. The insurer would then be responsible for tracking down the trucking company and attempting to recover the money that it has paid out on your claim.
If the semi driver in the motorcycle accident described above could be found, you would have several different options.
You would be able to bring a claim under the trucking company's claim for medical bills, lost wages, vehicle damage and other expenses incurred as a result of the accident. If, however, you were unable to reach a settlement with the insurance company, you would have to consider taking further legal action. Before you try to do this on your own, why not have someone on your side who can help?
Georgia Personal Injury Attorney – Limbocker Law Firm
Your personal injury lawyer may be able to prepare a lawsuit against the trucking company directly for improperly maintaining the vehicle, resulting in your injuries.
Contact us today to learn more about Georgia personal injury laws and to schedule a free consultation about your case. We can provide a free evaluation to see about the compensation that you may be entitled to.